Weekly Roundup 195: A Curated Linkfest For The Smartest People On The Web!
Handpicked to satisfy your intellectual curiosity!
Cartoon of The Week: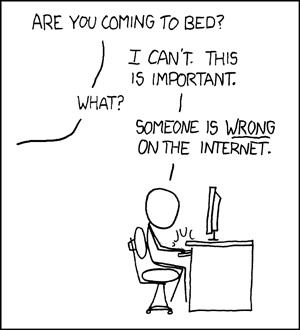 The Weekly Roundup:
How To Win At Forecasting (with Tetlock) – via Edge – The question becomes, is it possible to set up a system for learning from history that's not simply programmed to avoid the most recent mistake in a very simple, mechanistic fashion? Is it possible to set up a system for learning from history that actually learns in our sophisticated way that manages to bring down both false positive and false negatives to some degree? That's a big question mark
TED to TEDx: How to avoid bad science in talks – via www.slate.com – Which is why I was very pleased to read that today, TEDx Director Lara Stein, along with TED.com Editor Emily McManus, issued a public letter to all TEDx organizers warning them to be on the lookout for pseudoscience talks.
Deception can be perfected – via www.eurekalert.org – New Northwestern University research shows that lying is more malleable than previously thought, and with a certain amount of training and instruction, the art of deception can be perfected.
The Psychology of Cults – via ABC Radio National (Australian Broadcasting Corporation) – What sets many groups apart from what we regard as cults is a range of powerful psychological techniques which can be difficult to see through—particularly if you are at a vulnerable time of your life. We hear the story of one woman's escape from a cult and some insights into those persuasive techniques
The Best Books of 2012: Lists by The New York Times, NPR, The Guardian and More – via Open Culture – If books figure into your holiday gift-giving plans, then we've got a little something for you — a meta list of the best books of 2012. It's now December, the final month of the year, which means that newspapers and magazines can start taking stock of 2012 and declare their favorites.
The best psychology books of 2012 – via bps-research-digest.blogspot.com – It's the season for Christmas book lists and we've trawled through them, looking for the psychology-themed tomes earning a recommendation.
Best Books of 2012 Survey – via Hazelton Capital Partners – Please rank your book recommendation in order of importance: #1 being the highest and #5 the lowest.
Sendhil Mallainathan on Behavioral Economics & Development (via Kaltura) – via therearefreelunches.blogspot.com – Check here this enlightning presentation about Behavioral Economics & Development, from Sendhil Mullainathan
The Situation of Fraudulent Science– via thesituationist.wordpress.com – A culture permeated by 'flawed science' surrounded social psychologist Diederik Stapel. This is one reason why his academic misconduct went undetected for so long. The investigation into his practices and the discussion that followed have served as a catalyst for positive change, however. The fraud case has raised international awareness of the importance of scientific integrity. The discussion is now focusing more than ever on replication, data archiving and the general research culture.
Authors at Google: Nate Silver: "The Signal and the Noise" – via www.valueinvestingworld.com – Authors at Google: Nate Silver: "The Signal and the Noise"
The Situation of Poor Choices – via thesituationist.wordpress.com – One of the obstacles that keeps the poor from rising out of poverty is the tendency to make costly financial decisions – like buying lottery tickets, taking out high interest loans (PDF), and failing to enroll in assistance programs – that only make their situation worse. In the past, these poor decisions have been attributed either to low income individuals' personalities or issues in their environment, such as poor education or substandard living conditions. New research published this month in Science by Booth Assistant Professor of Behavioral Science Anuj Shah points to a new answer: living with scarcity changes people's psychology.
The power of outrospection – via ScienceDump – Introspection is out, and outrospection is in. Philosopher and author Roman Krznaric explains how we can help drive social change by stepping outside ourselves.
Dan Ariely: The Encyclopedia of Ethical Failure– via danariely.com – Wondering whether you can ask someone to give you a PhD in exchange for a kickback? Curious whether you can get away with stuffing ballot boxes? Allow me to introduce you to the Encyclopedia of Ethical Failure. Every couple years the Department of Defense publishes the Encyclopedia (Word doc), which is likely the most sarcastic government document out there. Interestingly, golf and taxes seem to turn up a lot.
Michael Pollan on the Political Situation of Food – via thesituationist.wordpress.com – Host Harry Kreisler welcomes writer Michael Pollan for a discussion of the agricultural industrial complex that dominates consumer choices about what to eat. He explores the origins, evolution and consequences of this system for the nations health and environment. He highlights the role of science, journalism, and politics in the development of a diet that emphasizes nutrition over food. Pollan also sketches a reform agenda and speculates on how a movement might change Americas eating habits. He also talks about science writing, the rewards of gardening, and how students might prepare for the future.
Brain regions that predict and regulate risk taking – via Deric Bownds– Two recent pieces of work raise the prospect of being able to predict and even regulate a person's risk-taking behavior, by first observing activity of the anterior cingulate cortex and then dialing it up or down
The Double History of Banking & The Art World– via Rachel Cohen – Representations of Value, or The Unexpected Double History of Banking and The Art World
Can someone please explain in plain English what Machine Learning, Big Data, Deep Learning, Data Mining, Statistics, Decision & Risk Analysis, Probability, Fuzzy Logic Are? – via William M. Briggs – What's the difference between machine learning, deep learning, big data, statistics, decision & risk analysis, probability, fuzzy logic, and all the rest?None, except for terminology, specific goals, and culture. They are all branches of probability, which is to say the understanding and sometime quantification of uncertainty. Probability itself is an extension of logic.
The History of Boredom – via Smithsonian Magazine – This Sunday, 500 people will flock to a conference hall in East London to be bored. Over the course of seven hours, they will hear talks on, among other things, pylons, self-service checkouts, double-yellow lines – as in the ones on the road – shop fronts and gardening.
Jeremy Grantham, Starving for Facts – By Vaclav Smil – via www.valueinvestingworld.com – A big thanks to Kent for passing this along. Two guys I really respect, with two very opposing views. Grantham's article that Smil is referencing is available
Looking at the Battle of Gettysburg Through Robert E. Lee's Eyes – via Smithsonian Magazine – "The technology is just a tool, and what really matters is how you use it," she says. "Historical geography means putting place at the center of history. No supercomputers are required." When I asked about her math and computing skills, she replied: "I add, subtract, multiply, divide."
The Best Kept Secret In American Journalism – via BGS – AT THE Democratic National Convention in 1980, a small brigade of young reporters dogged the footsteps of a man in a dark green suit. The man picked his way through the crush on the floor of the convention hall, pausing now and then to glance up at the podium. When he paused, the young reporters paused too. Then the man moved on again, puffing on his pipe and cradling a spiral notebook in his arm. None of the young reporters had a pipe to puff on, but most of them had notebooks cradled in their arms, and when the man in the green suit stopped to scribble an observation, the young reporters scribbled too. They looked like obedient goslings learning the lay of the barnyard from their beloved mother goose.
The Smartest Girls In The Room – via The Global Mail – Amanda Banton was the architect of a law suit that could have enormous ramifications for the world's financial markets: "I just couldn't do the run-of-the-mill stuff over and over. I like to be on the edge a little bit."
Google Presents an Interactive Visualization of 100,000 Stars – via Open Culture -Stargazers of all ages will enjoy the latest Google experiment designed for Chrome. One Hundred Thousand Stars (access it here) is an interactive map of space including the locations of—you guessed it—more than 100,000 stars. (Note: Before you experience the map, you will need to download the Chrome browser.)
As drug industry's influence over research grows, so does the potential for bias – via The Washington Post – When that analysis showed a sign of danger — Avandia raised bad cholesterol levels more than the competitor — the company decided to drop the subject.
Fantastic Infographics & Data Visualizations:
Conscious Consumerism: How Do Your Brands Rate? – via prAna Life – Not For Sale released a revealing report on slavery in the apparel industry, featuring supply chain ratings for more than 300 brands. Modern-day slavery, which currently affects more than 30 million people, is used throughout the production of many clothing products sold on U.S. shelves. The report, "Apparel Industry Trends: From Farm to Factory," uses publicly available information and data self-reported by companies to rate how brands are addressing child and forced labor in their supply chains.
How the Tax Burden Has Changed – Interactive Graphic – via NYTimes.com – Most Americans paid less in taxes in 2010 than people with the same inflation-adjusted incomes paid in 1980, because of cuts in federal income taxes. At lower income levels, however, much of the savings was offset by increases in federal payroll taxes, state sales taxes and local property taxes. About half of households making less than $25,000 saved nothing at all.
Misery farm – via The Economist – Wages and productivity have got stuck in the West
How much did you know about Nobel prizes and Nobel laureates? – via visualizing.org – The visualization explores Nobel Prizes and laureate from 1901 to 1912 analysing the age of recpients at the time prices were awarded,
average age' evolution through time and among categories, grade level, main affiliation universities and principal hometowns of the laureates.
Multimillionaires in the Asia-Pacific region: where do the super-rich live? – via guardian.co.uk – There were 23,884 multimillionaires in the Asia-Pacific region (APAC) at the end of 2011, up 31% on 2007's figure, but in which countries and cities are they clustered? We have used WealthInsight data to map the region's multimillionaires (defined as those with a net worth of US$30m or more, excluding primary residence) down to city level. One third of APAC multimillionaires live in China, but Singapore has the highest density, at over 60 per 100,000 people. Vietnam has seen the highest growth in its number of multimillionaire residents, with its total up 150% since 2007, Meanwhile New Zealand has three of the region's top six cities ranked by multimillionaires per capita.
Legal Disclaimer: I link to content created by others. If you believe I have violated your copyright please let me know and I will take down the link (immediately).