Weekly Roundup 184: A Curated Linkfest For The Smartest People On The Web!
Handpicked to satisfy your intellectual curiosity!
Legal Disclaimer: I link to content created by others. If you believe I have violated your copyright please let me know and I will take down the link (immediately).
Weekly Cartoon(s):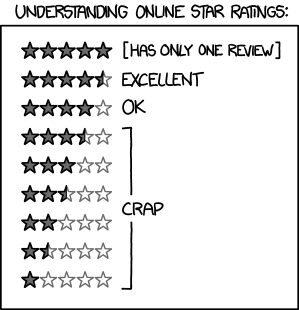 The Linkfest:
What Is Value? What Is Money?– via Edge – We have always had this tension of understanding the world, at small spatial scales or individual scales, and large macro scales. In the past when we looked at macro scales, at least when it comes to many social phenomena, we aggregated everything. Our idea of macro is, by an accident of history, a synonym of aggregate, a mass in which everything is added up and in which individuality is lost. What data at high spatial resolution, temporal resolution and typological resolution is allowing us to do, is to see the big picture without losing the individuality inside it.
Understanding the Psychology of the American Idea of Choice:– via www.scientificamerican.com – Choice is a fundamental American value that often lies at the center of heated political discussions. For example, disputes about the Affordable Healthcare Act have hinged on whether buying health insurance should be a personal choice. Recent research suggests that thinking about our lives in terms choices may reduce our support for public policies that promote greater equality in society. By emphasizing free will over the situational factors that shape people's life experiences, thinking about choice may lead us to view inequality as less bothersome.
Materialism, Consumerism, and Happiness – via thesituationist.wordpress.com – In two of four experiments, university students were put in a materialistic frame of mind by tasks that exposed them to images of luxury goods or words mobilizing consumerist values (versus neutral scenes devoid of consumer products or words without such connotations). Completing questionnaires afterwards, those who looked at the pictures of cars, electronics, and jewelry rated themselves higher in depression and anxiety, less interested in social activities like parties, and more in solitary pursuits than the others. Those primed to materialism by exposure to certain words evinced more competitiveness and less desire to invest their time in pro-social activities like working for a good cause.
The Foundation Statesmen – via nplusonemag.com – An intriguing explanation of how the US Government, politically hamstrung at home, could act with force and purpose abroad is contained in Inderjeet Parmar's excellent Foundations of the American Century. Throughout the 20th century, Parmar argues, the weak state was supplemented by private foundations, which took on many of the functions of government. Unelected, unaccountable, and for the most part unchecked, these foundations channeled billions of dollars into positioning the United States as a world power. Immune to the vicissitudes of democratic politics, they functioned as a shadow government, implementing the goals of what C. Wright Mills called the "power elite," the men of affairs who moved easily from corporate boardrooms to high-ranking government office, often in or around the State Department.
Mon Père, Ce Héros – via The Browser – Alexandre Dumas said of The Count of Monte Cristo "Everybody knows the book well enough, but few people know its author. Which is a pity, since the two are so closely linked that the one can only be judged by the other." Why?
The misuse of Pseudo Neuroscience Sways Judges – via Deric Bownds– Does the willingness on of some behavioral scientists to translate the legal and policy implications of their work really help, or does this represent growing misuse of neuroscience to attach scientific authority to policy, plus a clutch of neuroscientists trying to overstate their findings for a taste of power? Such debate makes studies like this one of of Aspinwall
Manufacturing Taste – via Longform – The history of Kraft Dinner, Canada's "de facto national dish."
Reinventing Society In The Wake Of Big Data – via Edge – With Big Data we can now begin to actually look at the details of social interaction and how those play out, and are no longer limited to averages like market indices or election results. This is an astounding change. The ability to see the details of the market, of political revolutions, and to be able to predict and control them is definitely a case of Promethean fire — it could be used for good or for ill, and so Big data brings us to interesting times. We're going to end up reinventing what it means to have a human socie
The Gangster Princess of Beverly Hills – via Rolling Stone – The Drug Enforcement Administration would ultimately uncover the scope of Lee's trafficking operation, estimating that in just eight months she and six co-conspirators moved 7,000 pounds of weed from California to Ohio, pocketing $3 million in profits. Incredibly, they'd pulled it off in plain sight. "It was all pretty elaborate," says Tony Marotta, DEA assistant special agent in charge of Ohio, amazed at the plot's brazenness. "Look at the way she did it – she came in here like a queen! It's like there was something romantic about it in her mind. The whole thing is bizarre." The most baffling part, however, was the mysterious figure standing at this nexus of glamour, thugs and drugs. When later that night one of the DEA agents informed her that she was under arrest, Lee looked dumbfounded.
Generation Smartphone – via IEEE Spectrum -While this scenario is, of course, science fiction, many of the technologies I'm describing are here today in research labs or even in app stores. So the reality of a SmartPhone 20.0, along with its envisioned NewBorn suite, are not far off.
Fed Up With the Euro? Start Your Own Currency – via WSJ.com – VALLADOLID, Spain—Even though she's one of millions of young, unemployed Spaniards, 22-year-old Silvia Martín takes comfort in knowing that her bank is still standing behind her. It's not a lending institution, but rather a time bank whose nearly 400 members barter their services by the hour.
Donors Invest Millions in Romney for Billions in Returns – via Bloomberg – Top Republican contributors say they back the party's presidential candidate Mitt Romney because they agree with his small-government philosophy or oppose President Barack Obama's new regulations on banks and the health-care industry. Yet Romney is more than just a political kindred spirit; he's a sound investment. Here's how a Romney presidency might pay off — literally — for some of these super-donors.
Judge Rules Poker Is A Game Of Skill, Not Luck – via www.npr.org – s poker a game of luck or skill? As a legal matter, courts have largely tried to avoid answering that question. That is, until now. A federal judge in Brooklyn has overturned the conviction of a man who operated a backroom poker game. And, as NPR's Mike Pesca reports, the ruling could have far-reaching consequences.
The Cheapest Generation – via The Atlantic – Education is the "obvious outlet for the money Millennials can spend," Perry Wong, the director of research at the Milken Institute, told us, noting that if young people invest less in physical things like houses, they'll have more to invest in themselves. "In the past, housing was the main vehicle for investment, but education is also a vehicle." In an ideas economy, up-to-date knowledge could be a more nimble and valuable asset than a house.
The Skype Killers Of Belarus– via The Browser – Viber is an app that lets you talk and text for free from your mobile phone. Developed in Minsk, it currently has 100 million registered users. And 10 million more are joining each month. A most unlikely success, this is its story
Food Stamps, Public Policy, and the Working Poor – via thesocietypages.org – Most people assume that the various benefits we collectively describe as "welfare" go to people who aren't working. The truth is, however, that some people with full-time jobs still find themselves below the poverty line. The U.S. federal minimum wage is $7.25 an hour. A full-time employee who doesn't miss a single day of work for a year earns $290 a week; that's 15,080 a year. According to how the government measures poverty, that's enough to support a single adult. For a single adult with a child, however, it's officially below the poverty line. It's $4,000 below the poverty line for a family of three. When a person has a full-time job, but still lives in poverty, they are what sociologists call the "working poor."
Infographic: American Sugar Consumption – via Cool Infographics:– American Sugar Consumption
Google Visualizes Global Transfers of Small Arms and Ammunition – via information aesthetics – Small Arms and Ammunition – Imports and Exports [chromeexperiments] was developed by Google as part of Google Ideas, a think tank that encourages initiatives that explores the role of technology in tackling human challenges.
WrapUp:
If you like this roundup include a reference to SimoleonSense!
Have a recommendation? email me at wr[at]simoleonsense[dot]com